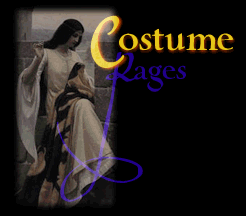 These pages are for the costumer and the costumer at heart. I am a costumer at heart. I love to sew, and I am self-taught and am willing and wanting to learn more about the art.
I will be including other various info on costuming i.e. pictures of my own stuff, patterns, and things of that sort...
I didn't build this page to brag...goodness knows that I don't have room to do that, I enjoy costuming so much that I wanted to spend a little time on a page to dedicate to. I enjoy researching and looking at paintings, and learning all there is to know about costumes. I do not and will not ever claim to be an expert, but I will help in any way I can, if I can't I can sure try to point someone in the right direction, or I will find out myself.
Please Email me if you know of any costume/sewing pages that you think would help out others! Thanks! JennBare@iname.com or HaggisGirl@hotmail.com